Abroad ESL Teacher for Interac
Summary(Review): Interac is a well established private provider of assistant language teacher positions in Japan.
Job Overview for Abroad ESL Teacher:
Salary Per Month:
Minimal: $
Maximum: $
Class Schedule:
Morning (9am-12pm)
Afternoon (12pm-3pm)
Late Afternoon (3pm-6pm)
Evening (6pm-9pm)
Student Ages:
Elementary & Junior (age 5-15)
High School & College Prep (age 15-18)
Job Details for Abroad ESL Teacher
Degree Required:
Bachelor or above
Certificate Required:
No/Preferred
Accent(s):
Native North American
Native UK
Native Australian/New Zealand
Native Ireland
Native South Africa
Non-Native Neutral
Apply To Interac
Abroad ESL Teacher Job Description
Assistant Language Teacher (ALT) is a title coined by the Japanese Ministry of Education, Culture, Sports, Science and Technology (MEXT) to describe native-level English speakers working in Japanese classrooms.
Interac's ALTs work in elementary, junior high, and high schools throughout Japan, with many teachers assigned to teach in at least two school levels. The most common situation is working as an ALT in elementary and junior high schools, with more time teaching spent at the junior high school level. You can expect to teach classes on your own, with a Japanese teacher present to help manage the classroom. With rare exception, you will work under the guidance of Interac as our employee and are not a member of the schools' staff.
Your job as an ALT is two-fold: language instructor and cultural ambassador. These two aspects are inseparable, and you will become an expert in both after a comprehensive initial training program.
Our ALTs are a part of elementary, junior high, and high school communities all across Japan.
In your schools, you'll work with Japanese teachers to facilitate smooth presentation of the school's assigned English curriculum. This may include preparing worksheets, model pronunciation and reading, demonstration of target language dialogs and similar tasks. In addition, ALTs are commonly asked to review and comment on students' homework notebooks and other written work, as well as conducting one-to-one or small group progress assessments.
But the heart of the ALT position is so much more – aside from just being a language instructor you are also a cultural ambassador. Sharing your own background and culture becomes a canvas for using English and gives meaning to what your students are studying.
Positions: starting year-round (Most in April)
Working Hours: Weekdays between 8:00am and 5:00pm.
Commuting expenses reimbursed
Teaching Hours: Typically three to five 45-minute classes per day
Salary: Between 2.4 – 2.7 million Yen per year
Obon (summer), New Year's holidays, national holidays, and paid leave
Career Navigation Program: Professional and skills development program available to our instructors
"ALT" is a title coined by the Japanese Ministry of Education, Culture, Sports, Science and Technology (MEXT) to describe native-level speakers of English working in Japanese classrooms. As an Interac ALT, you are not a member of the schools' staff but an employee of Interac, and therefore, you work under the guidance of Interac.
Your typical day as an ALT
As an Interac ALT, you will be scheduled to teach approximately 20 to 25 classes, 45 to 50 minutes each, per week. Assignments are usually scheduled between 8:00 am and 5:00 pm, Monday to Friday. Weekends and evenings are usually free, as are public holidays. Weekend activities for which you might be assigned to include occasional school sports or culture days.
Below is a sample of a schedule of an Interac ALT working in a junior high school.
Each class is identified by grade level and class number (e.g. 1-1 is Grade 1 – Class 1).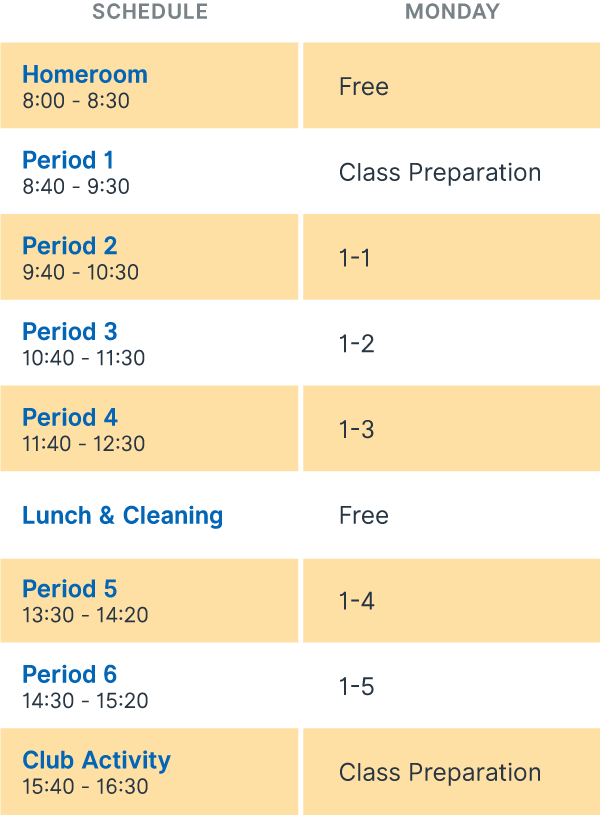 Abroad ESL Teacher Job Requirements
As well as having the mental aptitude and a desire for the challenge of living and working overseas, to be eligible to become an Interac ALT, you must:
Be a native-level speaker of English
Have received an education conducted in English for at least 12 years
Have at least a bachelor's degree in any subject from an accredited university
Be a team-player that is professional, flexible, cheerful, and energetic
Be under 60 years of age
While not required, it helps your chances if you:
Hold a driver's license
Have teaching experience
Have a teaching qualification, e.g., CELTA, DELTA, and TEFL
Have studied a second language at school or university
Can speak some basic Japanese
Abroad ESL Teacher Salary and Compensation
As an Interac ALT, you will most likely receive a gross annual salary of approximately ¥2.4 ~ ¥2.7 million per year. Interac pays salaries in equal monthly payments.
Under our Standard Compensation System, full-year contracts will usually run from April 1st to March 31st of the following year. Typically, the first and last months are not a full month of teaching, so your salary will be adjusted accordingly.
National income tax and employment insurance is automatically deducted each month from your salary. However, local residence taxes and health insurance are not deducted. Learn more about national income tax, employment insurance, residence tax, and health insurance in the respective sections below.
Your salary is deposited into your bank account on the 20th of the following month. For example, your April salary is paid on May 20th. When payday falls on a weekend or national holiday, the salary is deposited into the account on the preceding business day. Depending on the starting date, your first salary will be received approximately six to eight weeks after the start of employment.
How to Apply to Abroad ESL Teacher?
Apply To Interac
Abroad ESL Teacher Interview Process & Tips
Expectations During the Recruiting Process
Once you have submitted your application, it is expected that you:
Immediately and completely respond to our communications and office requests
Have your documents complete, neat, organized, and sent at the right time
Come to your interview/seminar well presented in business attire, meaning suit, tie, etc
Show an understanding of the opportunity you are being considered for as well as the costs associated with moving to Japan
Show a willingness to be flexible, especially about your placement location
Are polite, articulate, and well-spoken and can demonstrate cultural sensitivity
Global Interview and Seminar Information
In order to be considered for an interview, you must first submit an application online and pass our initial assessment process. Details of the interviews (dates, times, locations, etc.) will only be provided to successful applicants.
Our recruiting representatives will visit and hold interviews and seminars in cities in the United States, Canada, the United Kingdom, the Republic of Ireland, Spain, and the Czech Republic during summer in 2018 through spring 2019.
For applicants in Australia, New Zealand, and South Africa our recruiting process is completed entirely online.
If you currently reside in the Republic of the Philippines, all of our recruiting is handled exclusively by our agent, Chesham Recruitment Inc. If you are a native-level speaker of English and are currently teaching in another country in Asia, please contact our recruiting team using this form. Please include your current address in Asia as opposed to your home country address.
Company Information for Interac
As Japan's largest private provider of ALT's, Interac's mission is to enrich people's lives through the sharing of languages and cultures. We bring the world closer together — one student, one school, one community at a time. With our ongoing training and support you'll soon be thriving in an authentic Japanese school experience.
Interac teachers enrich the lives of hundreds of thousands of school children every year by delivering interactive and exciting English lessons. Commonly known as ALTs, which stands for assistant language teacher, Interac's teachers, working in the Japanese school system, enrich children's lives by sharing their knowledge of English and communication skills and giving insights into other cultures.
Founded in 1972, Interac is Japan's largest private provider of professional foreign teachers to the Japanese government through its ALT program. Interac is also a significant player in providing professional teachers for commercial and government organizations.
Interac is one of the largest non-government employers of foreign nationals in Japan. It employs nearly 3,000 staff in Japan across a network of 13 offices. Around 2,650 of these employees are non-Japanese.
While education is the mainstay of Interac's business, in 2013, Interac launched a recruiting business under the new Interac Global Solutions (IGS) brand. IGS combines the established brand of Interac and its recruiting power to recruit foreign nationals into teaching positions outside the Interac Group.
Interac started in September of 1972 in Tokyo's Shinjuku district, and over the years, the company grew as a provider of educational services to commercial organizations. In the mid-nineties, that field grew, and Interac started to provide ALTs and other education services to public Boards of Education and schools all over Japan.
For the first 38 years, Interac was a founder-owned company. Between 2010 and 2014, upon the retirement of its founder, Interac was owned by Advantage Partners, a Tokyo-based private-equity firm with a diverse stable of company investments. Since April 2014, Interac has become part of Link & Motivation Inc (TSE:2170). Link and Motivation Inc has a range of interests and subsidiaries in the business consultancy, education, recruiting, and hospitality sectors in Japan.