Organization
Search Associate
Schedule
February 8 – 11, 2019
Location
INTERCONTINENTAL MELBOURNE THE RIALTO
MELBOURNE, VICTORIA, Australia
Event Info
Fair Organizer: Nick Kendell
MELBOURNE SEARCH FAIR.
WELCOME TO SUMMER IN MELBOURNE AND THE SEARCH ASSOCIATES INTERNATIONAL JOB FAIR.
This is the earliest Search Associates mid-size fair of the year, so teaching candidates have the first opportunity to impress the schools and recruiters at the beautiful InterContinental Melbourne The Rialto. Teachers who receive invitations to this fair are passionate about their students and have a proven track record. This is traditionally the most successful Search Associates fair in terms of candidate placemets.
PLEASE READ THE FAIR SCHEDULE AND CANDIDATE INFORMATION AT THE TOP LEFT OF THIS SCREEN AND CONTACT YOUR ASSOCIATE FOR AN INVITATION.
Click on the tab, 'Schools Attending' on this page, for an up-to-date record of registered schools. This list will grow as schools finalise their hiring needs. Check back frequently to see the school list which will automatically update as schools register to attend, and/or cancel their attendance.
We anticipate around 50 international schools will be in attendance and approximately 150 candidates.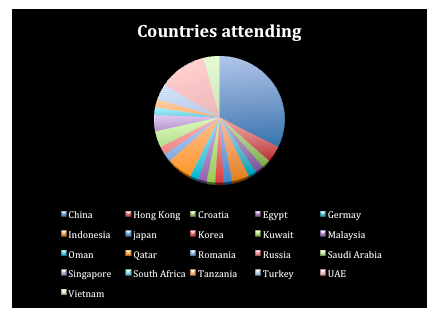 WHY CHOOSE THE MELBOURNE FAIR?
Small, friendly fair.
The majority of candidates have had inquiry-based teaching in Australia and New Zealand.
The number of schools attending the Fair will remain capped at approximately 50 of the best institutions invited worldwide in order to keep the ratio of teachers to schools at 1:4.

The highest percentage of teachers placed in 2017 (almost 70% of teachers walked away with a job, and 80% of teachers received an offer).
CHECK OUT FEEDBACK FROM CANDIDATES AND RECRUITERS
WHAT SORT OF SCHOOLS RECRUIT AT THE MELBOURNE FAIR?
It is important to note that the growth of the international school market is exponential and each year we are seeing a considerable number of new schools coming 'on line' and looking to recruit teaching staff. There is, naturally, a very wide quality spectrum of schools available for candidates to consider and we can help candidates chart their way through this vital exercise in a number of ways.
Firstly, schools attending the Melbourne fair have to be first of all registered with Search Associates. Roughly 10% of all schools listing themselves as providing international education, worldwide, are currently registered with Search Associates. This is the product of clear policy by our company to work with a certain type of schools. Each applicant school has to undertake a rigorous process of screening before it is accepted. As a registered candidate at the Melbourne Fair you can expect specific advice regarding schools which are of interest to you.
IS THERE A CLEAR PROFILE OF CANDIDATES WHO ARE SUCCESSFUL IN GETTING PLACEMENTS AT THE MELBOURNE FAIR?
This is a very difficult question to answer as there are always exceptions to the rule. Teachers in specialist fields have the best chances of success due to a smaller teacher supply in relation to the number of jobs. Specialist areas include: music, art, library, early childhood, science and mathematics, and advanced level teachers (such as IB Diploma, AP, GCE A-Level). Specialists do have an advantage over English and ESL teachers, fields in which the supply is large, but schools are always looking for outstanding teachers in all areas. Also in high demand: educators who have flexibility and the willingness to work in sometimes challengingly different professional environments. However, any teachers with a proven track record and a passion for student learning can succeed at this fair.
Teachers without recognised professional training and teaching certification / qualification will find it difficult to secure placements at this Fair.
PLEASE CONTACT NICK KENDELL FOR MORE INFORMATION.
We would love to see you there!